Michael viner's incredible bongo band - bongo rock
Michael Viner would make use of MGM recording facilities in down-time, recruiting whichever studio musicians were on-hand. This apparently included many well-known blow-ins, all uncredited. Important contributions were made by Jim Gordon on drums and King Errisson on bongos. Ringo Starr is rumored to have played on some tracks, specifically "Kiburi." [1] . The "down-time" sessions carried on for some time, until upper management finally quelled the vanity project.
There's a fun story behind this album, retold in detail in the liner notes. In 1972, Michael Viner was an executive at MGM Records. Asked to put together some music for the soundtrack of an upcoming B-movie horror film, The Thing with Two Heads, he called on songwriter Perry Botkin, Jr. , and the two of them whipped up a pair of songs called "Bongo Rock" and "Bongolia." By the middle of 1973, the songs, attributed to the Incredible Bongo Band , began to take off, both in Canada and on the . R&B and pop charts, so Viner and Botkin took the concept to the next obvious level and cut an album, also titled Bongo Rock . Successful enough to scrape into the bottom of the Billboard album chart, the pair put together The Return of the Incredible Bongo Band in 1974 before fizzling out. There are some other pertinent details worth knowing, for example, that Jim Gordon , of Derek & the Dominos fame, was one of the key drummers on the project, and that Ringo Starr supposedly stopped in to bang out a few beats. But some of the best stuff happened long after the demise of the IBB , when early hip-hop DJs such as Kool DJ Herc and Grandmaster Flash , and then the Sugarhill Gang , Massive Attack and others, discovered the Incredible Bongo Band 's recordings and began using samples from them. What started as a tossed-off filler session for a crummy flick took on a life of its own. This CD reissue contains not all, but most of the tracks from the two original albums, plus two remixes, "Apache (Grand Master Flash Remix)" and "Last Bongo in Belgium (Breakers Mix)." Interesting as it is to hear how the bongo-centric beats were toyed with by the hip-hoppers, the original recordings stand up on their own as classically kitschy cheese-rock. Bongos aren't the only sound heard, naturally, and fans of both lounge-rock and that crisp, reverby guitar sound prominent in old spy movies and Ventures records will dig what the IBB were all about. Their version of "Apache," the classic '60s instrumental made famous by the Shadows , is the equal of any other, and while that can't be said of their takes on "Satisfaction," "Raunchy," "Wipeout" or even "In-A-Gadda-Da-Vida," these studio musicians -- most of whom the creators of the IBB don't recall but which may or may not have included some heavyweights -- sure had a good time stepping out on their nights off.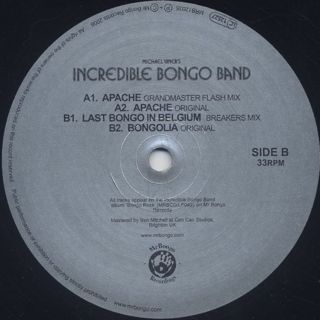 ae.greenlion.info